Top Rated Colored Concrete Contractor in Tustin, California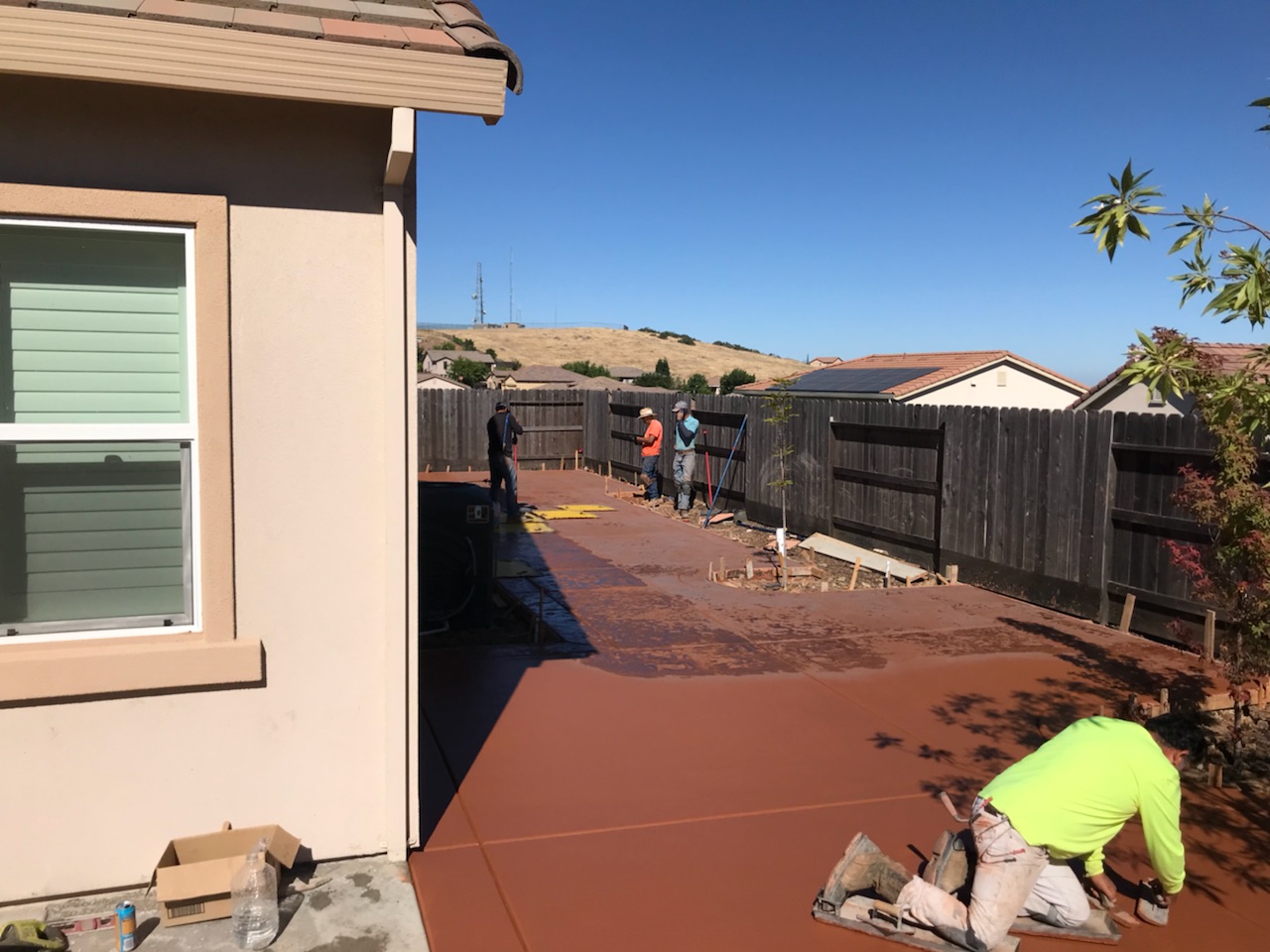 Are you looking for a concrete company for your home improvement? We, Tustin Concrete and Masonry Pros offer professional and affordable colored concrete services. We use state-of-the-art equipment to ensure a durable and beautiful colored concrete surface. For more information about our services, visit our website or call us today at (714) 583-6874.
There are numerous ways to color existing and new concrete, each with its own best practices, advantages, and limitations. For new concrete, our contractors rely on color hardener or integral color. Existing concrete surfaces are colored using decorative treatments and products. Today, manufacturers have availed many products for incorporating color on concrete surfaces. Although you will spend more on the construction of colored concrete, the results will be worth the investment. 
To know more about colored concrete in Tustin, contact us at (714) 583-6874 and get free estimates.
Methods of Coloring Concrete
Concrete Stains
Staining has specific requirements that cannot be achieved by other coloring mediums. The results of staining can mimic anything from tanned leather to polished marble to natural stone. Stains can either be water-based or acid-based. Both stains can be applied to old or new concrete. Stains are effective for revitalizing lackluster, dull surfaces. The majority of the stains have wear resistance and excellent UV stability, which permits their use on exterior and interior concrete. 
Acid stains are a mixture of hydrochloric acid, water, and other acid-soluble metallic salts. Calcium hydroxide in the concrete reacts with the acid elements, which etches the surface and leads to more penetration. Once the acid reacts, it leaves a permanent color on the surface.
Water-based stains have a wider spectrum of hues. Like acid-based stains, water-based stains permeate the concrete to produce a color.
Concrete Dyes
Concrete dyes are translucent color solutions that contain excellent concrete coloring agents. There are solvent-based and water-based dyes available in the market. It is also possible to play with the colors and produce interesting color variations. At Tustin Concrete and Masonry Pros, we use dyes to stir up color palettes. The main advantage of dyes is that they come in more vibrant tones as compared to other stains. Also, the colors can be diluted or mixed to create a unique shade.
Dyes are non-reactive, and they impart color by penetrating through the concrete surface or other porous cement surfaces. Since they are much smaller in size, it's easier for the particles to penetrate, thus allowing faster color saturation. The residue is left on the surface.
Dyes can be applied using various techniques depending on the desired results. At Tustin Concrete and Masonry Pros, we use a high-volume low-pressure (HVLP) equipment on our projects.
Dry-Shake Color Hardener
Color hardener leads to the production of more durable, stronger, and brighter surfaces than using integral color alone. However, contractors tend to avoid color hardener because the integral color is much easier to use, and many contractors don't know how to use color hardener.
It is important to note that Tustin Concrete and Masonry Pros have qualified contractors who know how color hardener works. One of the best practices for using color hardener is to apply when the surface is wet but without much bleed water. Don't wait until the concrete is too hard to apply the hardener.
Proper application of color hardener is an art that requires mastery. Instead of taking a lot of guesswork, contact us and let our contractors do their magic.
Integral Color
Integral coloring admixtures is a common way of coloring concrete. The admixtures infuse concrete with a long-lasting, rich, and fade-resistant color. In most cases, the concrete pigment used in colored concrete is an iron oxide pigment. Integral coloring avails a variety of coloring options since manufacturers offer more than twenty standard colors, and color matching services. 
The main advantage of integral coloring is that the entire concrete mixture is colored evenly, just like adding food color to cake icing. This ensures that the color is distributed throughout the slab. Therefore, even when surface abrasion occurs, the color will not be eroded. Integral color pigments have a low tendency of fading. 
Concrete can assume any design, color, pattern, shape, or texture. Colored concrete is used to make a bold design statement. Unless you are a purist who prefers the natural gray color of concrete, nothing should stop you from enhancing your surfaces with color. In our creative contractors' hands, the coloring mediums permit an endless number of decorative effects that harmonize with the surroundings. Call us today at (714) 583-6874 to get a free quotation.