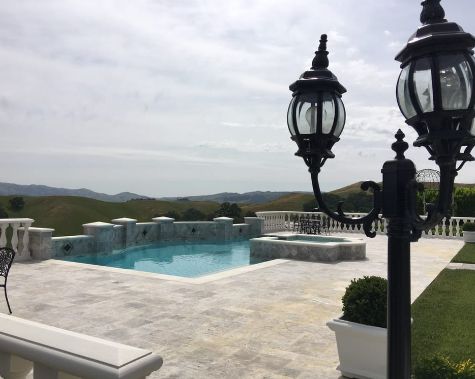 We are a dedicated group of professionals who work hard every day to provide the best concrete and masonry services in Tustin and its adjacent regions. At Tustin Concrete and Masonry Pros, our highly skilled masons and craftsmen have long experience in the industry, and their expertise gets reflected on the projects that we take up. We make sure that your landscape looks amazing, and at the same time, we guarantee the durability and sturdiness of our constructions. Our wide range of services includes all sorts of concrete, brick, and stone related works. 
Reach us by dialing (714) 583-6874 to get free quotes and estimates.
Concrete and Masonry Services We Offer
Tustin Concrete and Masonry Pros have a wide range of services to offer for building the perfect landscape for your home. Starting from planning, designing, and creating patios, pool decks, sidewalks, driveways, countertops, floors to building walls, retaining walls, fireplaces, we cover everything under the sun. Not just that, our skilled masons will also guide you in chalking out a beautiful plan for your landscape so that it looks elegant, extraordinary, and aesthetically pleasing.
Dial (714) 583-6874 today to get free estimates.
Driveways
Your driveway can either make or break the exterior of your house. We specialize in building concrete, brick, and stone driveways. A stone driveway may be a little expensive to install, but it definitely looks elegant. On the other hand, concrete is a popular choice owing to its affordability and durability. If you are a fan of traditional designs, you can also go for building a brick driveway. 
Sidewalks 
The exterior of your house is incomplete without nicely built sidewalks. Broken or unmended sidewalks can make your property look shabby, so it's wise to invest in making pretty sidewalks. Concrete, stones, and bricks are popular choices, and we possess equal mastery over all of them. 
Pool Decks 
The pool area of your house is all about having a relaxing time in summer. To make your dream pool deck, we are here to offer our services. We will install kool decks or cool decks for you to make sure that your poolside experience is even more fun and enjoyable. 
Patios 
Planning to build the patio of your dreams? Hire us, and we will design it in a gorgeous way possible. Whether you want a simple structure, or prefer an elaborately decorated patio with fountains and other luxuries, we can construct everything. We are currently offering stone, brick, and concrete services, and you can opt for any material that you like. 
Countertops 
We are sure you'd agree that the kitchen is the heart of your house because all the scrumptious food is cooked. When it comes to building or refurbishing your kitchen, a countertop is a must. And trust us when we say this, the options are endless. You can go for Granite, Marble, Quartz, Quartzite, or you may also go for a concrete countertop beautifully designed with stamped concrete or decorative concrete. When it comes to finishes and textures, our team will create unique designs and patterns so that you cannot take your eyes off it.
Fireplaces
Who doesn't love having a cozy fireplace inside the house? If you are planning on installing one, you should definitely hire Tustin Concrete and Masonry Pros. We have a great wealth of knowledge as well as experience in making fireplaces. This is a crucial project that needs expert help, as things can go haywire pretty quickly. The most popular material for constructing fireplaces is brick, as they are immune to fire and extreme heat. We will plan, design, and execute the entire process, and will build it just as you had imagined.
Yours may be a residential property or a commercial one; it may be new construction or a renovation– we provide all the services you need for all kinds of projects. What sets us at a higher pedestal than any other concrete contractor is our ability to cater to the customer's needs, personal styles, and preferences.
Our clients' return rate is incredibly high, and we truly feel privileged to be able to provide the best concrete and masonry services for your project. We offer these concrete and masonry services:
We provide services in these areas:
If you are looking for any assistance, know that we are just a call away.
Call us at (714) 583-6874 now and get a free quote!