Leading Pool Deck Contractor in Tustin, California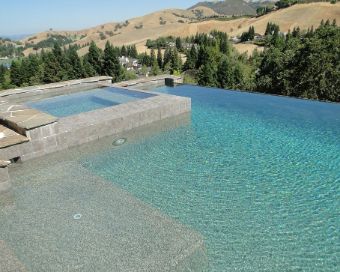 Are you looking for a quality pool deck in Tustin? You have come to the right place. Your pool deck area needs as much care as your pool. The pool deck promptly attracts the attention of your guests, so an efficient pool deck is a must. In the hot days of summer, the scorching sun can create a whole lot of issues for you, but your pool deck need not be one of them. The concrete pool deck area becomes extremely hot in these times, and you must invest in a good solution.
Call us at (714) 583-6874 for free estimates.
To enjoy the summer vacations by your poolside, a relatively cool pool deck is the ideal. Innovations have come a long way for pool designs and structures, and a pool deck is a go-to choice for everyone. While cool decks are the preferred choice for the surface of your pool deck, kool deck leads the way.
Is There a Difference Between Cool Deck and Kool Deck?
Cool decks and kool decks are often used interchangeably, but there's one important distinction that separates the two.
The pool deck is the umbrella term for the layers on your pool deck that keep the heat away from the surface while the kool deck is a special trademarked variety of a company based in Tucson, USA. And it's the best there is.
Why Choose Kool Deck?
Kool deck works best to keep the surface of your pool deck relatively cool so that walking and running on it don't become an issue. Other cool decks or the substitutes are of lesser quality, both in their composition and performance.
Kool deck manages to transfer the heat from the surface to the soil beneath. In this way, it helps to reduce the surface temperature and maintains the comfort level. Apart from that, the kool deck has a naturally aesthetic touch, so it doesn't need additional gloss or matte finish. It comes with multiple variants, so there's little to worry about your pool deck looking the same as your neighbor's.
Another important reason for the popularity of the kool deck is its ability to withstand thermal expansion and contraction by protecting the substrate during weather changes. With its easy to clean nature and a reasonable water-resistant property, the pool deck becomes a no-brainer.
Kool Deck Installation :
As we have learned so far, the kool deck gets the job done, but its installation is quite critical. That's why we strongly advise against self-reliant methods. A poorly executed installation will lead to issues in a short time. So only go for experienced and licensed services. Kool deck installation is more complex than acrylic installation, and it's always preferable to apply it on the fresh concrete surface.
Our professionals at Tustin Concrete and Masonry Pros provide you with the necessary safety, convenience, and efficiency. We offer a lot of services for your pool surface needs in the wide Tustin, CA area. Our skilled service providers boast knowledge of resurfacing, remodeling, repairing, cleaning, and rehabbing. Without the assistance of a professional company, installing a kool deck can be an uphill task, so if you are in the area, feel free to call us at  (714) 583-6874 for free estimates.