Tustin Decorative Concrete
Excellent Decorative Concrete Contractor in Tustin, California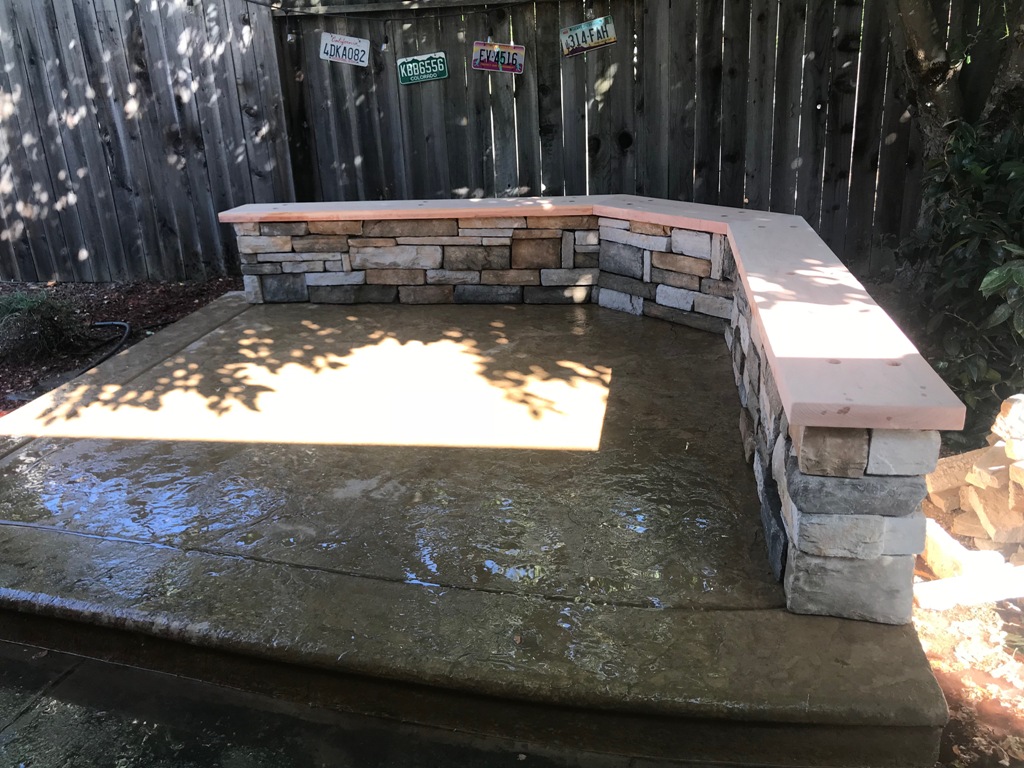 Despite knowing concrete as a durable and integral construction material, modern designs present it as an aesthetic enhancer. Concrete has become a beautiful element in the decoration of structures such as pavements, floors, driveways, patios, and walls.
This new trend has paved the way for companies and contractors to showcase their prowess in designing stunning decorative concrete structures. Here at Tustin Concrete and Masonry Pros, we offer numerous designs for decorative concrete finishes. In addition, we refurbish your old concrete structures, giving them a new sparkling look. Our consultation services are free and available 24 hours a day. 
Decorative Concrete Finishes Offered at Tustin Concrete and Masonry Pros
Decorative concrete is now an important consideration in your home decor. Here is a look at the most popular decorative concretes we offer;
Stamped Overlays
As the name suggests, this type of decorative concrete lays a thin layer of cement on the concrete surface. The cement is then stamped with a color texture of your preference. This method offers different varieties of colors for your structured decor. The layer of concrete is anti-wear, and therefore, durable. This method can be used to refurnish your old concrete structures as well as new ones.
Acid-Staining
This is one of the most popular types of decorative finishes around. Through permeating stains into the concrete pores, various tones of translucent and luminous shades are created. This varies depending on the type of application model and the concrete surface. The results are astonishing. Staining not only beautifies a concrete surface but also increases its durability.
Painting
With special epoxy-based paints, different designs and patterns can be created to give your structure a stunning look. For this high-quality decorative transformation on your concrete, give us a call today at (714) 583-6874.
Knockdowns
The knockdown overlay mix is used to create deep textures and designs on concrete surfaces. The addition of texture reduces slipping and gives your surface an attractive look as well. Some of the knockdown designs include the stone look, brick look, and wooden look. If your concrete retains wetness most of the time, this is the solution.
Trowel On
This method of decorative concrete furnishing is similar to that of knockdowns. It adds texture to your concrete as you would prefer. Using a thin film of anti-wear cement, this model replicates a rippled stone design in the finished look. The designs are easy to customize and blend with your home décor look.
Benefits of Decorative Concrete
Now you have a rough picture of what decorative concrete is all about. But hang on a minute, let us have a look at the benefits of decorative concrete. This will give you a reason to contact Tustin Concrete and Masonry Pros at (714) 583-6874, to get a free quote.
Increases the Value of Your Property
How do we do this? We give your old and ugly concrete surfaces a brand new look. Resurfacing seals all the cracks and gives you concrete a second chance. The sealant increases the durability of your concrete surfaces, whether floors, driveways, or parking lots.
Improves the Resilience to Wear and Tear in the Long Run
Special materials and supplies are used during resurfacing. Most of these are usually resistant to stains and other agents of wearing. You've probably tried everything. Decorative concrete applied with the correct techniques last much longer than the existing concrete. Dial (714) 583-6874 for more information.
New Colors and Designs
Blending the color of your floor with your wall paint or living room chairs is the wish of every homeowner. Decorative concrete has made this a reality. This technique gives your property that finishing touch you've been dreaming of.
Save on Costs
Resurfacing your concrete is much cheaper than doing it all over again. Think about the cost of scraping off the old concrete, getting rid of the debris, and preparing the surface for concrete pouring. Decorative concrete will save you time and money. Give it a try with Tustin Concrete and Masonry Pros.
At Tustin Concrete and Masonry Pros, we offer the best decorative concrete furnishing services in Tustin and nearby areas at an affordable cost. Remember, we give you a free estimate of the work. Reach out today at (714) 583-6874 and give your property that looks and feel it deserves.